Fall 2016 Fellow
Fellow: Ranjani Chakraborty & Salvador Muñoz
Project: Say What?! Street Harassment Intervention Strategies
ABout Say What?!
Street harassment is a persistent problem that impacts thousands of women, gender-nonconforming folks, and femmes throughout New York City daily. More than a mere annoyance, street harassment can often escalate from verbal to physical violence, resulting in injuries and even death for simply navigating a public space. Although this problem affects many, few people possess the necessary skills to intervene when they are bystanders of street harassment. "Say What?! Street Harassment Intervention Strategies" is a grassroots, multimedia-based project that aimed to equip the NYC community with the skills necessary to respond to and intervene in street harassment when witnessing it. Through this project, Ranjani and Salvador facilitated a limited number of street harassment intervention trainings, created a pocket-sized booklet of street harassment intervention strategies, and produced a video based on the trainings.
street Harassment intervention Booklet!
Take a look at the booklet Salvador and Ranjani have compiled as an engaging tool to use when witnessing street harassment.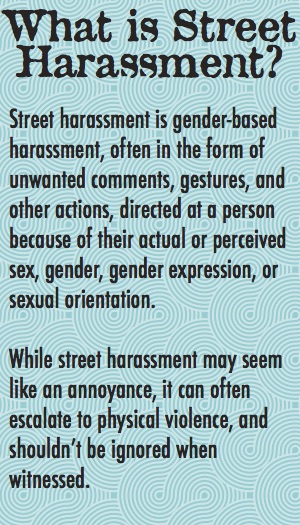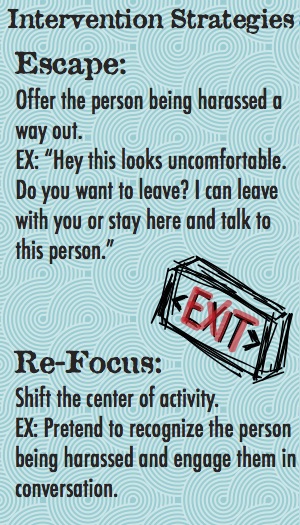 Salvador and Ranjani presented a workshop titled, "I'm Good, You Smile" coinciding with Anti-Street Harassment Week last April. The event led participants in making art, speaking up, and connecting with other women, queer, trans and gender non-conforming people who experience street harassment. They had screen printing, de-escalation skills sharing, and opportunities to plug in to local organizing.
Salvador's photographic installation series, Untitled (Struggling to Develop Autonomy While Navigating Systems That Weren't Built to Accommodate My Existence) is an ongoing piece that documents spaces where he has experienced street harassment in New York City. The installation examines street harassment as public incidents that have serious personal and cultural ramifications, affecting how folks feel about safety and autonomy in public space.
How does street harassment affect our ability to be part of our community? How does it affect the way we navigate public spaces on a daily basis? Who is targeted by street harassment? Who perpetuates it?
Ranjani's video profile highlights the Stop Telling Women to Smile project by Tatyana Fazlalizadeh, which aims to draw attention to street harassment and its pernicious effects by placing portraits of women who have been harassed outside in public spaces, captioned with messages to their offenders.
Ranjani Chakraborty is a Brooklyn-based, freelance video storyteller. Her work focuses largely on social justice, criminal justice, and inequality - and how they all intersect. Ranjani has produced with National Geographic on their short documentary program Explorer; America Tonight, Al Jazeera America's flagship newsmagazine show; and NBC News contributing to Dateline, The Today Show, and Nightly News. She is a Medill School of Journalism/Northwestern University alum, and has completed independent grant projects and international reporting in Johannesburg, South Africa; Pune, India; and Marrakesh, Morocco.
Salvador Muñoz is an artist and organizer living and working in Bed-Stuy, Brooklyn. His work focuses on the intersections of race, class, gender, and sexuality. Working in a variety of mediums, primarily photography, installation, and artist multiples, Sal uses his art to contribute to larger social movements and encourage individual and interpersonal change. He has participated in several group and solo shows throughout New York City and California, most recently at the Brooklyn Academy of Music and the Minan Gallery in Los Angeles. Sal received his BA in Studio Art from the University of California, Santa Barbara where he graduated with honors, and was a 2016 Laundromat Project Create Change Fellow.